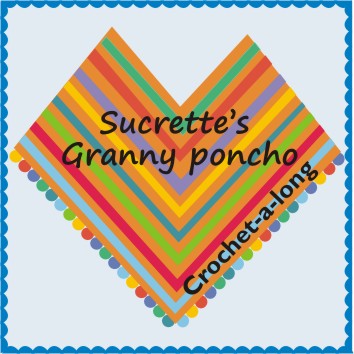 Can't get the html code to work! Click
HERE
to be taken to the CAL post.
The idea behind the CAL was to finally make something for yourself... however, I just don't see myself wearing this...
Fortunately, I have other people to make things for, two beautiful, wonderful little people in fact! The only other time I ever made a poncho was for Biggest when she was about 1 year old. It's just very serendipitous that this CAL came along just as Littlest is turning a year! How could I not make this?!
I am using Red Heart Soft yarn. It's soft so it will feel good, but it's also 100% acrylic so it will be washable and wearable for little ones! Plus, it was on sale at Michael's, so I could afford to buy a bunch and not feel guilty!
Biggest chose these colours:
So I set off to work:
I had a bit of trouble starting. I knew I wanted to do a row of single crochet to start, but both times I went to join the ends together after my first row of singles, it was all twisted up! I finally had an aha moment and decided instead to do a round of foundation singles and it worked much better :)
Can any of you tell were I made my big boo boo on this? It was not a pattern fault of any kind...
I messed up the colours Biggest had chosen!! I used navy instead of the wine she had originally picked :( Oops! Fortunately she didn't notice when I had her try it on this afternoon to make sure I had the right size...
Such a silly girl! She was making all these "heart" and "peace" signs with her hands that it was blocking the poncho! I finally convinced her to make the heart on her lap, but the consequence was her trying to restrain laughter! LOL Love her sooo much :)
Can't wait to continue with this. Will finish this up in no time, and then just have to wait for the weather to be good to take it outside and get some good pics :)
Thanks for taking a look,